When computer viruses first started to be recognized as a problem, Symantec's Norton brand quickly emerged as a market leader. Almost everyone I knew used Norton Anti-Virus and most of the pros I dealt with recommended it.
I parted company with Symantec quite some time ago when a change was made in the licensing terms of the product. Previously, a license renewal was tacked on to the end of the current term but the change caused a new term to begin immediately, even if there was time left on the current term. I considered this theft, did not accept Symantec's defense of the practice, and promptly switched myself and my clients to Grisoft AVG.
I found AVG an excellent product at a reasonable price and with appropriate licensing terms. I have used and recommended it for about seven years. A little over a year ago, however, the product began to run very slowly and I needed to find a replacement. About that same time, Symantec offered me a deal I couldn't refuse for Norton Internet Security, so I decided to give it another look. I doubt I've ever made a bigger mistake; the program's performance was not only worse than AVG's but brought one of my PCs to its knees.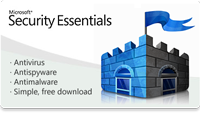 It was at this point that I decided to give Microsoft Security Essentials (MSE) a try. It is a free product and that meant I could give it a long shakedown without incurring costs. I figured that starting with MSE was just the first step in evaluating other products and was relieved that I could postpone making another purchase, but I fully expected to return to a paid product. Having tried Microsoft Defender, I felt that MSE was probably just another chip off the block.
As it develops, I have not made another purchase. MSE has certainly met my expectations and in fine form. I am impressed across the board with the product - its simplicity of installation and use, its effectiveness (I have not been infected and MSE has deflected quite a few threats), and its minimal impact on system performance. I am so impressed that I now recommend MSE as the client security solution at my small business clients, where it has given the same impressive results.
When I say "client security solution," I mean on the PCs that people use (desktops, laptops). MSE is not a server solution; for that, Microsoft offers its Forefront product line. In small offices with a server, MSE is fine for the client PCs but a purchased product of some kind will be needed to protect the server itself. In fact, Microsoft promotes MSE for home, personal use and suggests Forefront for all business use. Forefront pricing unfortunately puts this out of reach for most small businesses, with a $2,500 price tag for the server plus $13 per user per year. Most of that cost is for Microsoft SQL Server 2005; if SQL Server is already running on your server, The Forefront console is only $100.
Nevertheless, Microsoft is on the side of the angels with Security Essentials. I don't hesitate to recommend it.
By the way, if you plan to download and install MSE, be sure to remove any other AV product from you computer first, even if it is a trial.
Tags: Microsoft, Security, Windows
A total of 57 related articles were found. See them all...